Hi Au Pair!
Would you like to create the best Au Pair profile?
It's the first thing every Au Pair site demand you.
You have to create an account and a profile where you tell something about yourself and why you want to be Au Pair, your experience, your level of English, etc.
At first, it seems easy. 
But then, this "easy" process drives us crazy when we start to think if what we are writing is going to like the host-families or if we should put something else.
So finally, we decide to describe ourselves with the same neutral adjectives that always like the receiver.
Typical…
The problem?
That don't make you stand out.
To say that you're friendly, responsible, that you like children…
That's normal, doesn't it?
The weird thing would be that you say you're nasty and irresponsible and that you don't like kids.
Then why do you want to be Au Pair?
So, to learn how to create a good Au Pair profile that suits you and make you stand out I will start by describing the steps to follow.
I have chosen the page AuPairWorld for being the best known, although there are other pages to find family.
If you want to know "The best free pages to find host-family", just click here.
The first thing you have to do in register as an Au Pair.
To do so, you click in Login > Sign up as Au Pair.
In order to register as an Au Pair, you have to fill in a first registration form, where you should specify:
About you:
First and last name
Date of birth
Gender
Contact Details
Contact details like your email address, Street and house number or your phone number.
Don't worry about privacy because only the employees of AuPairWorld can see your contact details and they don't appear in your profile.
More information about you
In this section start the doubts.
Do you have child care experience?
If you want to work as an Au Pair it's sure that you have taken care of children at some point and you like them. Don't worry because your level of experience will be best specified in the description.
So, child care experience > YES
Do you have a valid driving licence?
YES > If you usually drive and you know you can do it in Ireland without difficulty every day taking children and on the left side.
NO > If you don't have a driving license or you're like me, you have it but you don't look so experienced as to drive in Ireland taking kids in the back seat.
If families look for Au pairs with a specific driving licence it is because it is going to be very necessary.
You must specify if you smoke or don't. Then the host-family will tell you if they don't care if you smoke inside the house or prefer to do it outside when you're not with the kids.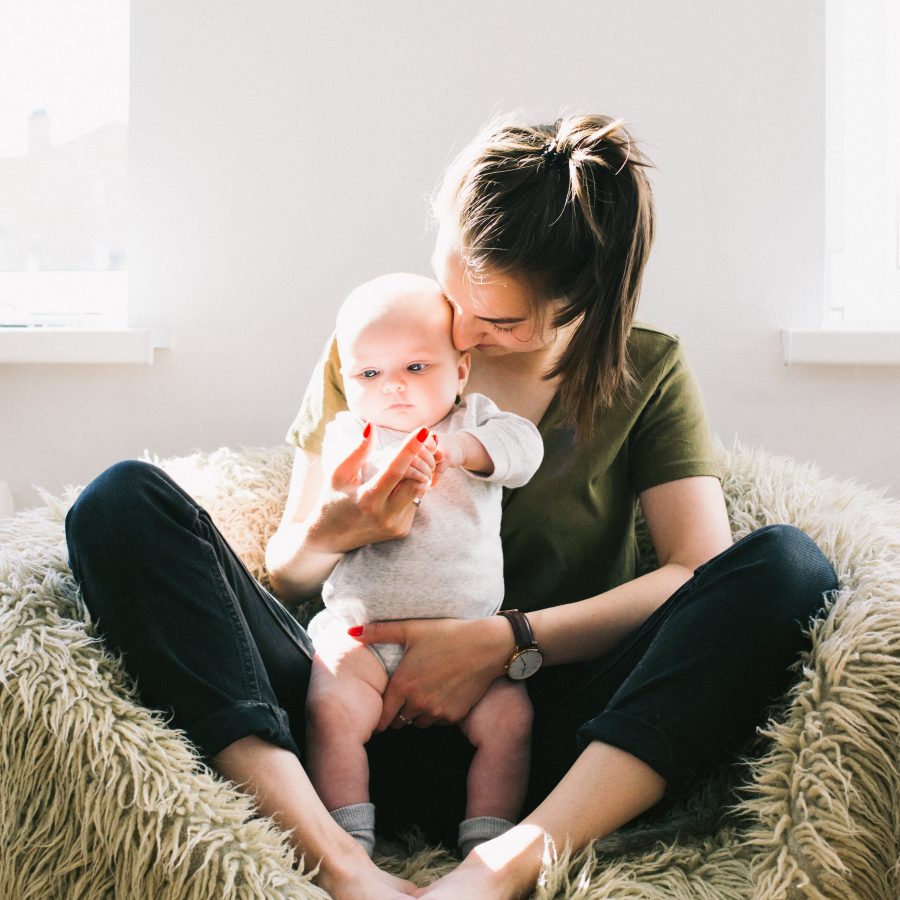 Language Skills 
Select your native languages and others which you speak fluently.
If you also speak English very well put it.
But don't lie or exaggerate it!
Really, it's okay if you don't know so much English. Host-families are aware that you also are in Ireland to learn it and they will help.
If you want to know the English level you need to be an Au Pair, click here.
In this case, the form continues with the following questions:
Where do you wish to work as an Au Pair? Choose the country (or countries) and if you prefer a big city, a small town, the countryside or a particular region.

Would you be willing to do housework? It refers to basic tasks in relation to children like picking up their rooms.

Are you willing to work in a single parent family?

Do you mind if family members smoke?

Are you willing to work with children with special needs? 

Age range of the children you wish to take care of.
If you want to know more about the decision of take care of babies, kids or teenagers, click here.
When would you like to work as an au pair?

How long would you like to stay with your host family?
The important thing is coming!
You can ask for help if your level is not very good, ask to be corrected by other person or to do the translation in Google Translate, for example.
It's not the best option, but better than nothing.
And finally, what do we write?
Here are my tips:
Make a list of all your experience with children, including cousins, nephews or small siblings.

Also what is not directly in relation with. I explain:
Have you done any first aid courses in high school?
Do you have relatives whose job is related to education or paediatrics?
Is your university career related to children or other aspects like creativity, sport, etc.? 
About you: Don't write the typical adjectives. Look for what you stand out.
Ask your parents!
Are you creative? Very hard-working? Do you like travelling?
Put it in words with useful examples.
Instead of saying "I am creative", you can say I study design or advertising where have got creativity is very important.
Instead of saying "I like travelling", you can write in which cities you have lived during a long stay or your favourite countries and why.
If you can't stop quietly and always love doing sport, dancing or cooking, it will also help families get a better idea and see what you could help them with.
Show you closely to them. It's not a formal letter. Don't start with: "Dear family…".
Be honest.
Real example of my Au Pair profile
I give you an example of my Au Pair profile.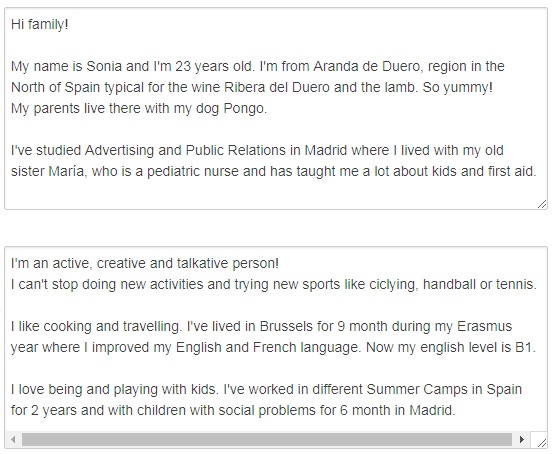 As you can see, there is no marked length so don't hesitate to give more information about you.
Put yourselves in the host-families place and think what they would like to read.
Specifying always your level of English (even if you've done an official language test).
A picture is worth a thousand words!
What a truth.
What is the first thing you do when you see a new host-family profile in AuPairWorld before you write them?
Look their pictures, isn't it?
You get an idea of how they are and if you would like to live with them.
Well, families do exactly the same thing.
Put pictures where you're in a natural way

Better with a smile

Practicing your favourites hobbies

Pictures with your family, friends or kids
Try each image contributes!
In my profile there was a picture of me on holidays, another with my parents and my sister, another with my dog, another dressed-up as a Minion and several with my small cousins.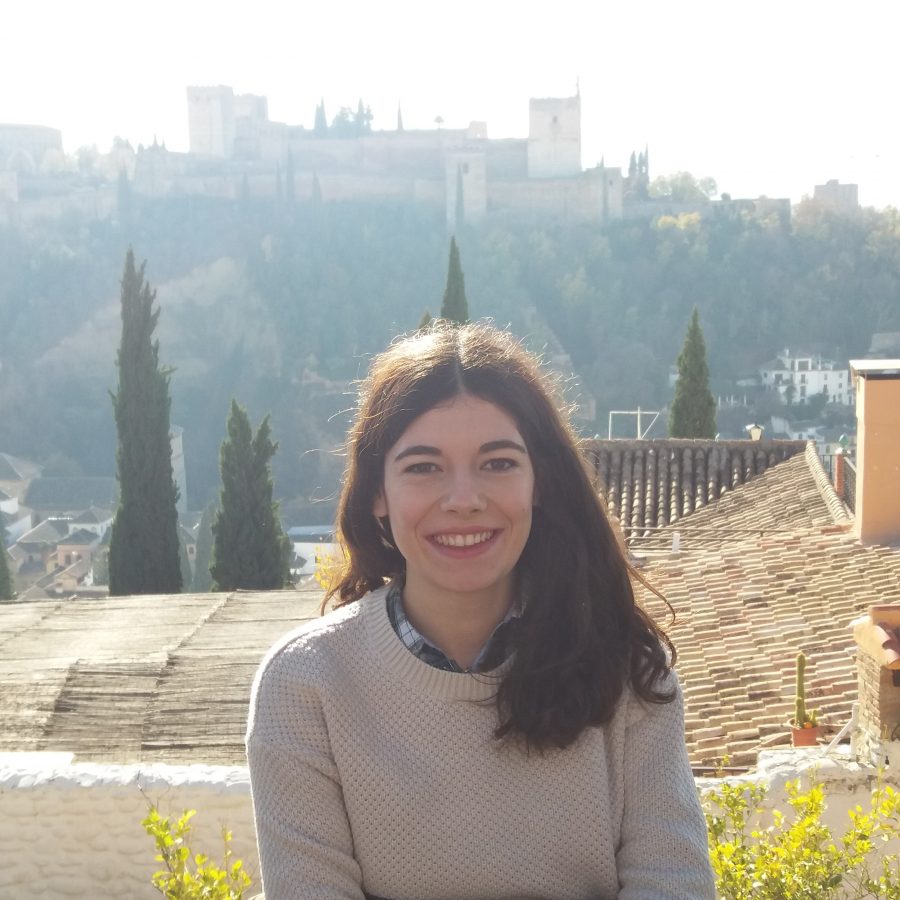 That's all you need to know future Au Pair for create the best Au Pair profile.
Don't just for AuPairWorld, also if you try to find a host-family in others sites or Facebook groups.